USB 2.0 Digital DVB-T TV Stick Recorder Tuner Receiver
We are professional enterprise manufacturer & supplier of a complete range of DVB-T TV stick.Our top quality dvbt are based on years of research and development and under the guideline of ISO9001-2000 quality system and CE and UL certified.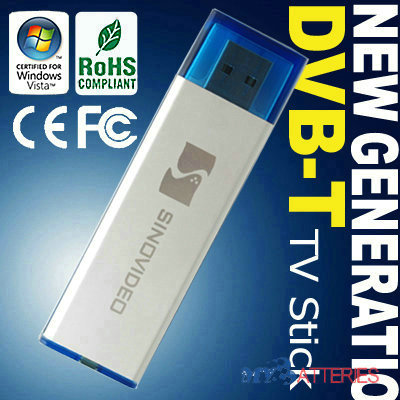 USB 2.0 Digital DVB-T TV Stick Recorder Tuner Receiver Capture for Laptop

100% satisfaction guaranteed!
Item Number:MYBE21

---

Product Type : SV-3420B DVB-T TV Stick™©


---

Sample Price : USD $ 29.69

Retail | Wholesale

---

Condition:
Brand New & High Quality

---

---

---
USB 2.0 Digital DVB-T TV Stick Recorder Tuner Receiver Capture Description:
We are the exclusively authorized dealer of "SINOVIDEO"! Provide the latest generation of digital products for you!

Products R & D: SINOVIDEO has a professional R & D team.
Products Quality: SINOVIDEO's products have passed RoHS, FCC, CE Certifications and the WHQL Certification of Microsoft.
Partners: SINOVIDEO has cooperation relationship with many computer manufacturers and brand computer dealers, like Lenovo, Philips, Microsoft and HP, etc.
SV-3420B DVB-T DVBT TV Stick SINOVIDEO
SINOVIDEO' s brand new product SV-3420B TV stick comes to market!
This product had passed many field tests, which proves that our TV stick is 6dbi higher in sensitivity than similar products.
Ultra high receiving ability,even works well in weak signal places.
Functions and Features
Ultra thin outlook, easy to carry, compatible with both desktop and laptop.
Aluminum metal shell strengthens the heat extracting function.
Coppery antenna connectors and convertors make for reducing signal losses.
Within the range of DVB-T, you can enjoy DVB-T TV in HDTV quality.
With PIP function, adjustable window position and size.
Support multi-screen viewing.
With 4: 3 or 16: 9 display modes.
SINOVIDEO' s self-developed driver software TVGO, with more simple operating interface.
1) With function of recording TV programs and burning in DVD for replaying or playback.
2) Editing video or family movie with appropriate equipment.
3) With the function of burning MP3- and Wav- datas in CD.
4) With the function of editing photos and producing into album.
Comparation between SINOVIDEO Brand and Normal Products
USB 2.0 Digital DVB-T TV Stick Recorder Tuner Receiver Capture Detailed descriptions:
1.
With E3C EC168 chipset
,low heating and strong compatibility.
2.
With DC TO DC power chip, which greatly improve the inherent noise problem of switch circuit as to reduce the interference to surrounding circuits. The design of dual power circuit strengthens the stability and service life.
3. Simply plug the TV stick into computer and install the driver, the automatic channel-searching function turns on.
4. USB interface, plug and play, no need extra power supply, USB data cable is for extending.
5. Real time or preset program recording and turning it into MP4 format, and enjoy it on mobile phone or PSP on the road.
6. With still pictures snaping function.
7.
Support time shifting.
8. Support EPG (Electronic Program Guiding).
9. Support teletext.
10. Support DVB-T multi-caption converting.
11. With DVB-T radio receiving service.
12. Support multinational languages (English, German, French, Portuguese, Italian, Spanish and Dutch).
13. Fully functional infrared remote control for easy volume tuning and channel exchanging.
14.
Support Microsoft BDA driver.
15.
With Maxliner 5003s silicone tuner.
Notice:
As it is terrestrial antenna input, please check out whether you are within the DVB-T indoor aerial reception arrange before purchasing.
USB 2.0 Digital DVB-T TV Stick Recorder Parameters:
Receiving Frequency: TV 48.25-855.25MHz 2K or 8K FFT Size
Punctured Codes: 1/2, 2/3, 3/4, 4/5, 5/6 and 7/8
Bandwidth: 6/7/8 MHz
De-Multiplexing
Max No. Section filtering: 32PIDs
Engine: Software
Stream capture: PES & TS
A/V Format
Video Format: MPEG-II Main Profile & Main Level
Audio Format: MPEG-II Audio Layer I & II
Guard Interval: 1/4, 1/8, 1/16, 1/32
Modulating modes: QPSK 16QAM, 64QAM
Dimension: 85 mm x 25 mm x 10 mm
Weigth: 22 g
USB 2.0 Digital DVB-T TV Stick Recorder Supporting Systems:
CPU 1.4 GHz or higher
256MB RAM or above
Microsoft Windows XP(SP2), Windows Vista X32 and X64
USB 2.0 Interface
VGA card with DirectX 9.0 support
Display card: at least 8 MB display memory
CD-ROM Drive for Software Installation
300 MB HD space(install driver and software like HandCap), receiving 600 MB to 3 GB per hour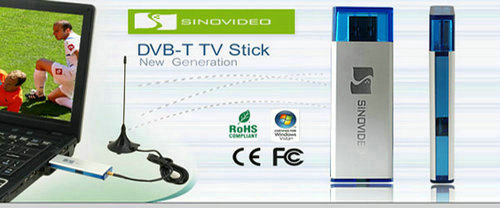 USB 2.0 Digital DVB-T TV Stick Recorder Package included:
1 x SV-3420B silver DVB-T TV stick
1 x USB cable
1 x Antenna
1 x Remote control
1 x Software CD
1 x converter
Original package
Attention:
please check Freeview availability in your area at www.freeview.co.uk, enter your postcode for checking.
- UK buyers :
Please ensure you can receive the Digital Terrestrial Television (DTT) service in your region. Check here for coverage: http://www.dtg.org.uk/retailer/coverage.html
- Europe and other buyers:
Please check your DVB-T supports from the following website: http://www.dvb.org/about_dvb/dvb_worldwide/