Home
>>
Camcorder Battery
>>
SONY
>> CCD-SC Series Camcorder Battery>> This battery has been designed to work with your original charger
Equivalent SONY CCD-SC Series Camcorder Battery
Your camcorders battery life is very important. Without battery power you can quickly become useless. We supply fresh batteries for SONY CCD-SC Series Camcorder Battery and related accessories.The CCD-SC Series battery pack replaces the SONY Camcorder Battery, Never run out of battery power when you're just about to capture the perfect moment! All of camcorder batteries achieve international standards such as CE, UL Listed, and/or ISO9001/9002 certification.30-Day Money Back Guarantee, No Hassle Return !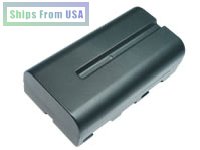 SONY CCD-SC Series Battery
Meet or Exceed Original Specifications !
Battery Weight : 67.00g
Battery Chemistry : Li-ion
Battery Voltage : 7.4V(Compatible with 7.2V)
Battery Capacity : 2300mAh
Battery Color : Dark Grey
Product Number : CSN034D
Dimensions : 71.50x38.00x20.50mm
High capacity, Longer Record Time
Compatible Camcorder Battery Code:
SONY NP-F330 SONY NP-F550 SONY NP-F550I SONY NP-F550J SONY NP-F550V
Fits Models:[Please " Ctrl+F " to find your model number.]
SONY CCD-RV100 Battery, SONY CCD-RV200 Battery, SONY CCD-SC Series Battery, SONY CCD-SC5 Battery, SONY CCD-SC5/E Battery, SONY CCD-SC55 Battery, SONY CCD-SC55E Battery, SONY CCD-SC6 Battery, SONY CCD-SC65 Battery, SONY CCD-SC7 Battery, SONY CCD-SC7/E Battery, SONY CCD-SC8/E Battery, SONY CCD-SC9 Battery, SONY CCD-TR Series Battery, SONY CCD-TR1 Battery, SONY CCD-TR11 Battery, SONY CCD-TR1100E Battery, SONY CCD-TR12 Battery, SONY CCD-TR18 Battery, SONY CCD-TR18E Battery, SONY CCD-TR1E Battery, SONY CCD-TR2 Battery, SONY CCD-TR200 Battery, SONY CCD-TR205 Battery, SONY CCD-TR215 Battery, SONY CCD-TR2200E Battery, SONY CCD-TR2300 Battery, SONY CCD-TR2300E Battery, SONY CCD-TR280PK Battery, SONY CCD-TR290PK Battery, SONY CCD-TR3 Battery, SONY CCD-TR300 Battery, SONY CCD-TR3000 Battery, SONY CCD-TR3000E Battery, SONY CCD-TR3100E Battery, SONY CCD-TR311E Battery, SONY CCD-TR315 Battery, SONY CCD-TR315E Battery, SONY CCD-TR317 Battery, SONY CCD-TR3200E Battery, SONY CCD-TR3300 Battery, SONY CCD-TR3300E Battery, SONY CCD-TR411E Battery, SONY CCD-TR412E Battery, SONY CCD-TR413 Battery, SONY CCD-TR414 Battery, SONY CCD-TR415E Battery, SONY CCD-TR416 Battery, SONY CCD-TR417 Battery, SONY CCD-TR417E Battery, SONY CCD-TR425E Battery, SONY CCD-TR427 Battery, SONY CCD-TR427E Battery, SONY CCD-TR500 Battery, SONY CCD-TR511E Battery, SONY CCD-TR512E Battery, SONY CCD-TR515E Battery, SONY CCD-TR516 Battery, SONY CCD-TR516E Battery, SONY CCD-TR517 Battery, SONY CCD-TR555 Battery, SONY CCD-TR57 Battery, SONY CCD-TR610 Battery, SONY CCD-TR617 Battery, SONY CCD-TR617E Battery, SONY CCD-TR618 Battery, SONY CCD-TR618E Battery, SONY CCD-TR640E Battery, SONY CCD-TR67 Battery, SONY CCD-TR710 Battery, SONY CCD-TR713E Battery, SONY CCD-TR716 Battery, SONY CCD-TR717E Battery, SONY CCD-TR718 Battery, SONY CCD-TR718E Battery, SONY CCD-TR728 Battery, SONY CCD-TR728E Battery, SONY CCD-TR730E Battery, SONY CCD-TR76 Battery, SONY CCD-TR760E Battery, SONY CCD-TR810E Battery, SONY CCD-TR818 Battery, SONY CCD-TR840E Battery, SONY CCD-TR845E Battery, SONY CCD-TR87 Battery, SONY CCD-TR910 Battery, SONY CCD-TR913E Battery, SONY CCD-TR917 Battery, SONY CCD-TR918E Battery, SONY CCD-TR930 Battery, SONY CCD-TR940 Battery, SONY CCD-TR950E Battery, SONY CCD-TR97 Battery, SONY CCD-TRT97 Battery, SONY CCD-TRV101 Battery, SONY CCD-TRV119 Battery, SONY CCD-TRV16 Battery, SONY CCD-TRV16E Battery, SONY CCD-TRV201 Battery, SONY CCD-TRV215 Battery, SONY CCD-TRV25 Battery, SONY CCD-TRV27E Battery, SONY CCD-TRV3000 Battery, SONY CCD-TRV315 Battery, SONY CCD-TRV35 Battery, SONY CCD-TRV36 Battery, SONY CCD-TRV37 Battery, SONY CCD-TRV37 HI8 Battery, SONY CCD-TRV37E Battery, SONY CCD-TRV4 Battery, SONY CCD-TRV41 Battery, SONY CCD-TRV43 Battery, SONY CCD-TRV45K Battery, SONY CCD-TRV46 Battery, SONY CCD-TRV46E Battery, SONY CCD-TRV47 Battery, SONY CCD-TRV47E Battery, SONY CCD-TRV48E Battery, SONY CCD-TRV49 Battery, SONY CCD-TRV51 Battery, SONY CCD-TRV517 Battery, SONY CCD-TRV54E Battery, SONY CCD-TRV56E Battery, SONY CCD-TRV57 Battery, SONY CCD-TRV57 HI8 Battery, SONY CCD-TRV57E Battery, SONY CCD-TRV58 Battery, SONY CCD-TRV59 Battery, SONY CCD-TRV59E Battery, SONY CCD-TRV615 Battery, SONY CCD-TRV62 Battery, SONY CCD-TRV63 Battery, SONY CCD-TRV65 Battery, SONY CCD-TRV66 Battery, SONY CCD-TRV66E Battery, SONY CCD-TRV66K Battery, SONY CCD-TRV67 Battery, SONY CCD-TRV67E Battery, SONY CCD-TRV68 Battery, SONY CCD-TRV71 Battery, SONY CCD-TRV715 Battery, SONY CCD-TRV716 Battery, SONY CCD-TRV72 Battery, SONY CCD-TRV720 Battery, SONY CCD-TRV75 Battery, SONY CCD-TRV78 Battery, SONY CCD-TRV78E Battery, SONY CCD-TRV80PK Battery, SONY CCD-TRV81 Battery, SONY CCD-TRV815 Battery, SONY CCD-TRV82 Battery, SONY CCD-TRV85 Battery, SONY CCD-TRV85K Battery, SONY CCD-TRV86PK Battery, SONY CCD-TRV87 Battery, SONY CCD-TRV87E Battery, SONY CCD-TRV88 Battery, SONY CCD-TRV90 Battery, SONY CCD-TRV91 Battery, SONY CCD-TRV92 Battery, SONY CCD-TRV93 Battery, SONY CCD-TRV930 Battery, SONY CCD-TRV940 Battery, SONY CCD-TRV94E Battery, SONY CCD-TRV95 Battery, SONY CCD-TRV95E Battery, SONY CCD-TRV95K Battery, SONY CCD-TRV98 Battery, SONY CCD-TRV98E Battery, SONY CCD-TRV99 Battery, SONY DCM-M1 Battery, SONY DCR-SC100 Battery, SONY DCR-TR7000 Battery, SONY DCR-TRU47E Battery, SONY DCR-TRV103 Battery, SONY DCR-TRV110 Battery, SONY DCR-TRV120 Battery, SONY DCR-TRV130 Battery, SONY DCR-TRV310 Battery, SONY DCR-TRV315 Battery, SONY DCR-TRV320 Battery, SONY DCR-TRV510 Battery, SONY DCR-TRV520 Battery, SONY DCR-TRV525 Battery, SONY DCR-TRV7 Battery, SONY DCR-TRV720 Battery, SONY DCR-TRV820 Battery, SONY DCR-TRV9 Battery, SONY DCR-TRV900 Battery, SONY DCR-TV900 Battery, SONY DCR-TV900E Battery, SONY DCR-VX2000 Battery, SONY DCR-VX2100 Battery, SONY DCR-VX700 Battery, SONY DSC-CD250 Battery, SONY DSC-CD400 Battery, SONY DSC-D700 Battery, SONY DSC-D770 Battery, SONY DSR-200 Battery, SONY DSR-PD100A Battery, SONY GV-A500 Battery, SONY GV-A500E Battery, SONY GV-D200 Battery, SONY GV-D800 Battery, SONY Mavica FD-200 Battery, SONY Mavica FD-75 Battery, SONY Mavica FD-83 Battery, SONY Mavica FD-87 Battery, SONY Mavica FD-88 Battery, SONY Mavica MVC-FD100 Battery, SONY Mavica MVC-FD200 Battery, SONY MVC-CD1000 Battery, SONY MVC-FD5 Battery, SONY MVC-FD51 Battery, SONY MVC-FD7 Battery, SONY MVC-FD71 Battery, SONY MVC-FD73 Battery, SONY MVC-FD75 Battery, SONY MVC-FD81 Battery, SONY MVC-FD83 Battery, SONY MVC-FD85 Battery, SONY MVC-FD87 Battery, SONY MVC-FD88 Battery, SONY MVC-FD90 Battery, SONY MVC-FD91 Battery, SONY MVC-FD92 Battery, SONY MVC-FD95 Battery, SONY MVC-FD97 Battery, SONY PLM-100 Battery,
1) A new CCD-SC Series battery usually maintains a discharged condition with very low capacity. It is highly recommended to fully charge new SONY CCD-SC Series batteries packs before using.

2) A new SONY battery pack needs to be circled (fully discharged and recharged) three to five times to reach its optimum performance.

3) Recharge a spent battery as soon as possible after use. While this isn't critical, shallower charges of Li-Ion batteries put less stress on the battery than a deep full charge. Besides, you never know when you might meet Elvis.

Do not leave the battery in the charger after the indicator says it's fully replenished. (Don't leave the battery in the camcorder either.) Store the battery at room temperature. Stashing it in the fridge to slow battery drain is pointless if you...

A Lithium-Ion battery offers about 40% more charge capacity than a Nickel Cadmium battery of similar size and weight. This camcorder battery can be fully charged in less than half the time than it would take a Nickel Cadmium battery to charge. Lithium-Ion batteries do not suffer from memory effect. Not having to worry about memory effect you can charge your battery when it is 90% fully charged and not hurt it at all. It is best to keep this type of camcorder battery fully charged. Lithium-Ion batteries are also the most expensive on the market. It is best to store your Lithium-Ion batteries in a cool ,dry area, safe from shock. Be sure to recycle them when they're ready to be discarded