CANON BP-608 Battery Charger
A battery charger is a device used to put energy into rechargeable battery by forcing an electric current through it.The charge current depends upon the technology and capacity of the battery being charged.Certain electronic products require a special format battery charger.We offer multi-chargers especially for canon bp-608 battery charger to replace your defective bp-608 battery charger or as a spare replacement canon battery charger. Select a battery code below to browse our complete canon battery charger parts inventory.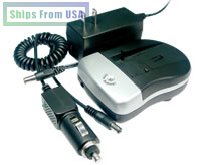 BP-608 Battery Charger
100% OEM Compatible!
Produtct Number:CCN002SU
Charger Type : Li-ion Battery charger
Input : AC 100V-240V, 300mA, 50/60Hz.
Output : DC12V, 500 mA
Dimensions : 106.50x69.00x37.00 mm
Charger Weight : 355g
Car charger will automatically turn to trickle charge mode after the battery is fully charged to provide output shortage protection
CANON BP-608 Battery Charger Compatible with Battery Code:
CANON BP-608, CANON BP-608A, CANON BP-617,
CANON BP-608 Battery Charger Fits Models:
CANON CV-11, CANON DV-MV100, CANON DV-MV20, CANON DV-MV20I, CANON Elura, CANON PV1, CANON ZR CV11, CANON ZR-10,
Why Using A Battery Charger Is Better For The Environment:
What you may not know is that a lot of batteries are now classified as toxic and hazardous waste. Another thing that you may not know is that it is also now possible to recycle batteries in order to reduce the harm that they do to the environment. The other thing that you can do to help reduce environment risk, along with recycling, is by using battery chargers and rechargeable batteries where possible.

There will be a battery recycling centre in your vicinity so the other option is to find out where it is(Rechargable Battery Recycling Corporation http://www.rbrc.org ). Taking your batteries to a battery recycling plant will no doubt seem like another hassle that you are unwilling to add to recycling confusion, but as a potentially toxic item of rubbish it is incumbent on all of us to ensure batteries are disposed of correctly. By far the best thing to do is use rechargeable batteries and an appropriate battery charger as much as you can. Vehicle batteries are already rechargeable and rechargeable batteries can be bought for every other type of appliance.

There are two reasons why recharging batteries is better for the environment than buying non-rechargeable batteries. At first thought it may seem that the amount of energy used to charge the batteries is defeating the object but this isn't the case. Batteries take far much more energy to make and charge in a factory environment for one-off use than it does to create a rechargeable battery that can be charged again and again from the mains with a battery charger. Secondly rechargeable batteries can be recharged hundreds of times which means that there are less batteries in general and therefore less to dispose of and less toxic waste.