4 in 1 LED Teaching/Laser Pointer
We are professional enterprise manufacturer & supplier of a complete range of Red Laser Pointer. Our top quality 4 in 1 LED Teaching/Laser Pointer are based on years of research and development and under the guideline of ISO9001-2000 quality system and CE and UL certified.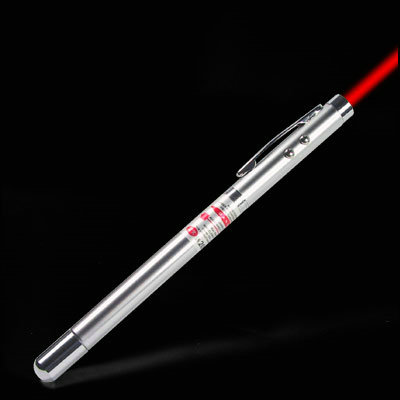 4 in 1 LED Teaching/Laser Pointer & Wholesale here

100% satisfaction guaranteed!
Item Number: MYB430

---

Product Type : LED Laser Pointer™©


---

Sample Price : USD $9.79


---

5PCS Wholesale : USD $42.79

Condition:
Brand New & High Quality

---

---

---
4 in 1 LED Teaching/Laser Pointer Description:
Fantastic as a star-pointer - easily visible at night time, the unusual bright color makes it much more noticeable
Portable kit works as handy torch, office/school presentation, etc
With your laser pointer to point at any desired targets on projection screens, video monitors, and presentation graphics, point out the target on the blackboard clearly by teachers
With its length, teachers can remind the unconcentrative students far away from him
Best choice of gift

100% Brand New high quality product
Class IIIA laser product
4 in 1 functions - Flashlight/Teaching/Laser Pointer/Ball Pen
Pressure button for LED Light Laser beam
Ball pen available
Output Mode: Constant wave
Length: 53cm
Max output 5mW
Wavelength 650n m+/-10
Powered by: 3 x AG3 button cell battery
Color: Silver

Cautions: Avoid direct eye exposure to laser beam. Do not aim the laser at reflective surfaces. Do allow children to use laser pointers unless under the supervision of an adult.
4 in 1 LED Teaching/Laser Pointer Package included:
1 X 4 in 1 Laser Pointer